---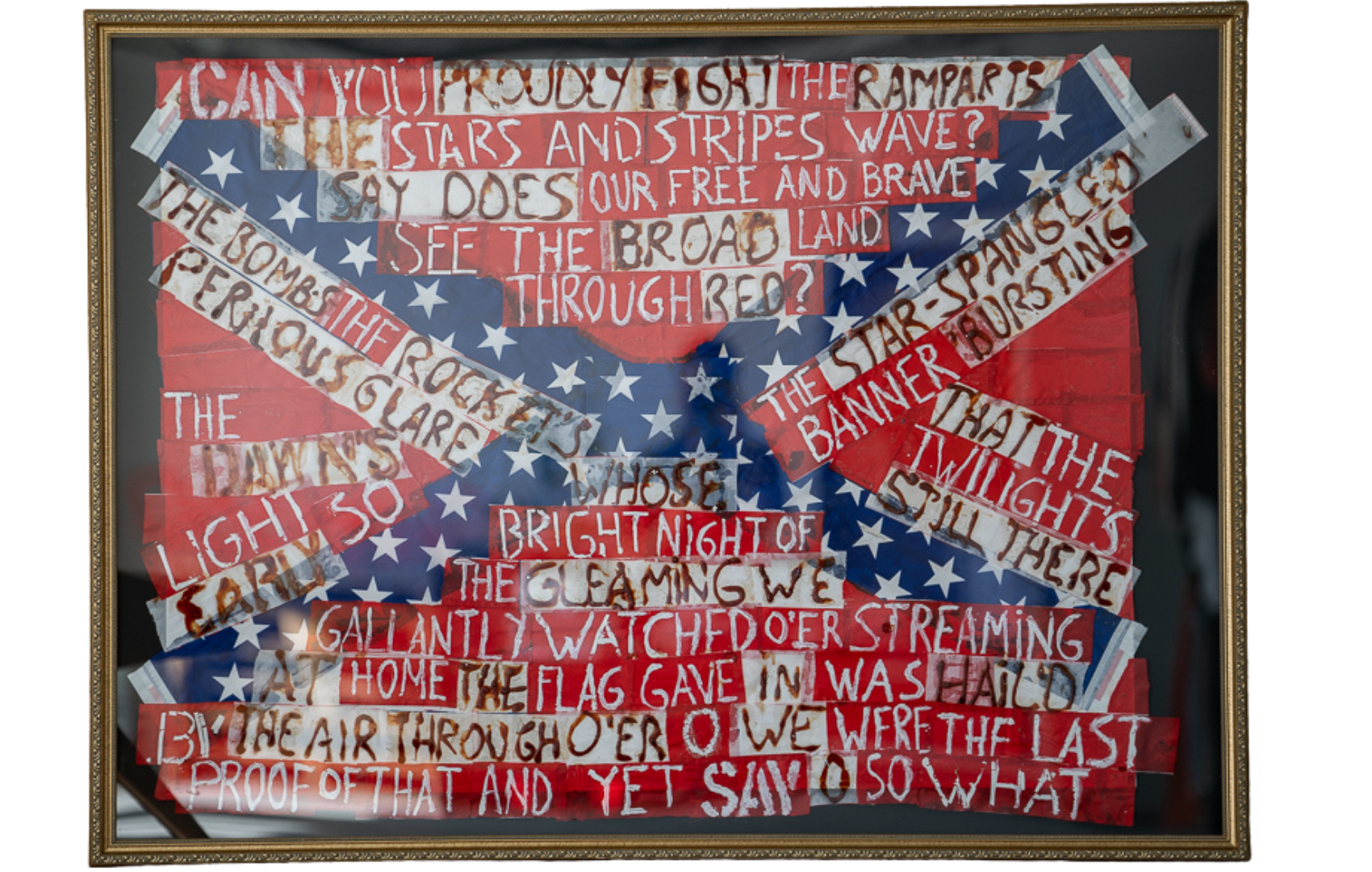 The Star-Spangled Bannon, 2021
Ketchup, sugar and wite-out on polyester.
38.4 x 49.2 inch
(photo by Ton Gomes)
Eduardo Albuquerque first wrote a poem in 2020 by rearranging the words - including commas and question marks - in the lyrics of Francis Scott Key's "The Star-Spangled Banner". By reassembling its words in a different order and context, he criticized how the "American Experiment" and its values were being re-written by the fascist movement that had Steve Bannon as one of its "thinkers".
When January 6, 2021 happened, it all came together. Watching racist fascist insurgents storming the US capitol, Albuquerque thought of
The Star-Spangled Banner
and imagined a dark "what if" in the form of a flag.
He then bought three Made-in-China American Flags on Amazon, wrote The Star-Spangled Banner's lyrics on its stripes - using ketchup at the white parts, and wite-out and sugar at the red parts - then proceeded to cut the words out and assemble a Confederate Flag with it, forming "The Star-Spangled Bannon"; a sad non-functional flag that could (and must) never fly.
The Star-Spangled Bannon
by Eduardo Albuquerque

Can you proudly fight the ramparts
the stars and stripes
wave?
Say, does our free and brave
see the broad land through red?
The bombs, the rocket's perilous glare.
The star-spangled banner bursting.
The dawn's light so early, that the twilight's still there.

Whose bright night of the gleaming
we gallantly watched o'er streaming
at home.

the flag gave in.
was hailed by the air.
through. o'er.

Oh, we were the last proof of that.

And yet, say: oh, so what.
---

B.
PUBLIC EXHIBITIONS
—-



2022
[Jan - Mar] Musa Exhibit @ Skep 360 (Miami, FL)




<< Comida Khosmica (2021)